Florida is a magnet for motorcycle riding and motorcyclists because it's one of the few states that you can ride year round. The only caveat is the summer rains, you need to pay attention to the weather forecasts and have appropriate rain gear.
Its not just the weather that makes Florida so popular, its also because there are so many places to ride to. Florida probably has more tourist attractions than any other state.
Florida is pretty flat with lots of wide open road, though there are a few exceptions. Motorcycle riding on the back roads of Florida can be quite satisfying and scenic. Other than the middle of winter in Northern Florida the roads are generally ice free.
Below are my 5 favorite routes for motorcycling in the state of Florida.
The Ozello Trail Ride, 9 miles- Perfect for Motorcycle Riding
Expect plenty of views of the gulf, a few bridges, plus plenty of twists and turns. This is one of the most popular routes in Florida, though short, and is hidden around 60 miles to the north of Tampa.
There are plenty of side roads to explore, and other roads to check out in the area. Towards the end, you'll find a great spot to eat. Take Highway 19 to State Route 494, the W. Ozello Trail.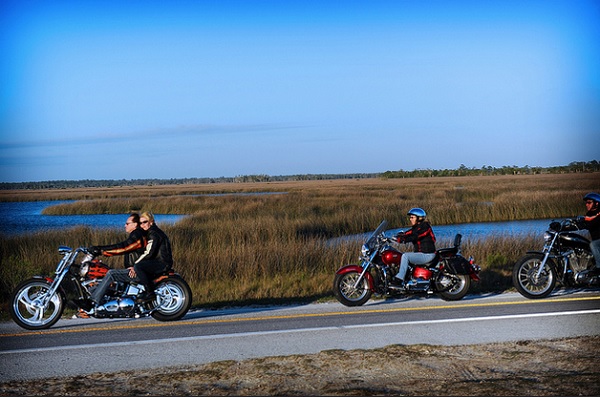 Alligator Alley, 75 miles
The I-75 has been known as Alligator Alley since it originally opened in 1968. It reopened in 1993, ending in (or beginning) Weston. There are plenty of spots for you to pull off the road and take in some of the wildlife and flora.
You may see gators, or even bears, it all depends on your lucky you are. Some riders report multiple sightings, while others aren't so lucky. Keep your eyes peeled, though, because it's easy to miss the sights.
You can expect to maintain a speed of around 80, but don't go too much over it because there is a heavy police presence on this road.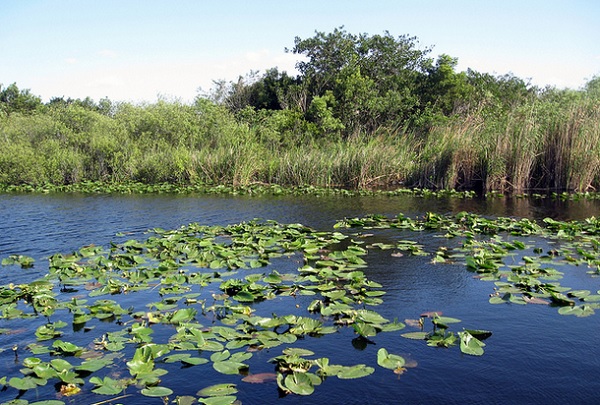 The Sugarloaf Mountain Ride, 45 miles
This offers riders something a bit different from the rest of Florida, with tight corners and hilly inclines. It's dramatically different from the standard flat terrain found throughout Florida. As you travel the 441 you'll find yourself escaping the city traffic and enjoying more wooded scenery as the area becomes more sparsely populated.
The ride doesn't really start till you hit Old Country Road 561. The 561 and the 455 create an excellent loop around Sugarloaf Mountain and make for a winding ride with curves and inclines. It's a country ride, so there aren't many stops along the route.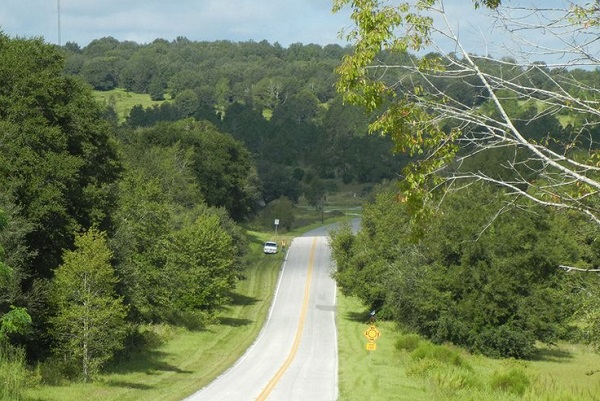 Indian River Lagoon, 44 miles
The Indian River Lagoon route is the perfect balance of rural road and relaxing highway. This route is excellent for  for new riders because it's a fairly straight and smooth ride.  Though the two-lane roads have some twists and turns, plus minor dips and hills. Fort Pierce has four routes intersecting it, and this route can be found at the intersection of the A1A south and the US-1.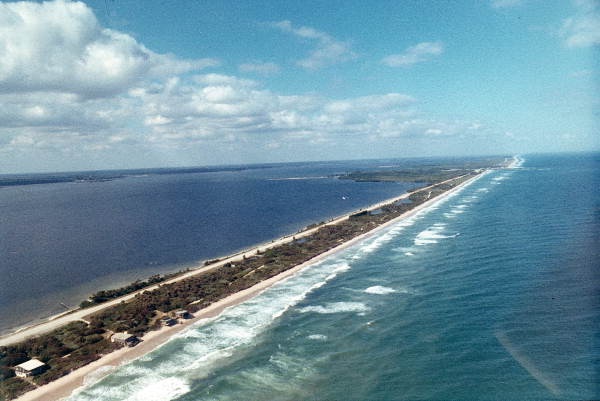 Scenic SR-13, 38 miles
There are plenty of communities with parks, and shady trees lining the roads making this an excellent ride. The St Johns River is just to the side of the SR-13, whether you're heading north or south. You'll start out with a busy 6 lane highway, narrowing to 4 lanes as you head over the county line at Duval and St Johns, and then eventually becomes a simple 2 lane road.
Motorcycle riding  traveling from the north?  Take Interstate 295 towards the Jacksonville SR-13 exit. If you're heading from the south, then you'll find the road just off the SR-207 near Hastings. This is an especially popular road with motorcycle clubs. If you're planning on riding in a group the added safety that rider-to-rider wireless communication provides is especially helpful.
Enjoy the ride but please ride safely and always wear a helmet.