How to Get the Best Hotel Rates 90% of the Time
For Florida hotels and worldwide!
 Do you recognize this guy?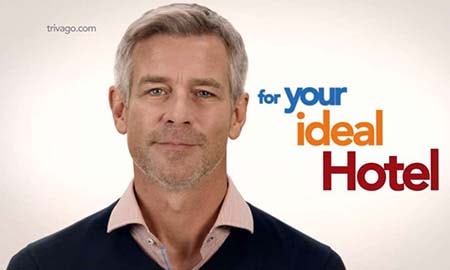 Well, what if I told you 90% of the time he is WRONG?
Wrong about getting the best rate.
I am going to show you how to get the best rate for top rated Florida hotels. 4 and 5 star hotels if you want. Worldwide. 1000's of choices.
This is not a whole process.  It is click click save.
I am also  going to show you deals where visitors have saved over $600.00 for a week in a famous Miami Beach landmark.  You are going to save time, money and get the best deal possible. Not only will you get savings on hotels worldwide, but you will have access to insider discounted rates on fun. Fun? Yes fun, like attractions like Disney, Sea World.  Movie tickets. And a whole lot more.
We are Being Controlled
The online booking industry is controlled by 2 companies.  Search google for  any city and hotels and see what companies are on the top results. Almost the same in every city. Why do you think that is?  The same 2 companies own all those sites. One even owns that travel guy on top. That's why when you see results on that site, you will notice one or two websites are always showing on top, with the "low" deal.
Break Free. You Have Choices.
Yes, you do have choices, and now I am going to show you how and why.  If you just want to jump in and check out the low rates skip to bottom of page.
Hotel websites do NOT want to be undersold in public, because they want you to book by them, so they do not have to pay commission. Therefore, most of the time booking directly at the hotel site will get you the same rate as anywhere else.
There are 3 major exceptions to that rule.  1. Travel Agents 2. Resellers who have bought non cancellable rooms from people who could not go. 3. Private membership sites.   Some will also claim Groupon, but they have no real choices.
There are some disadvantages to using all three.  Travel agents nowadays are a bit of a hassle just to book a hotel room. Resellers are limited in inventory and dates. Private member sites, there is a cost involved to join.
Florida.com has Private Member Area
with one huge difference besides the rates.
Before we get into the differences let's look at the Florida hotel deals. Here is the deal  mentioned above. Fontainebleau is $90 less PER NIGHT than the the cheapest rate at Trivago. That is $630 cheaper for the week.
Your rate is $90.00 Cheaper per Night!
How can that be? Go check it out!
Here is another in New York. 17% off.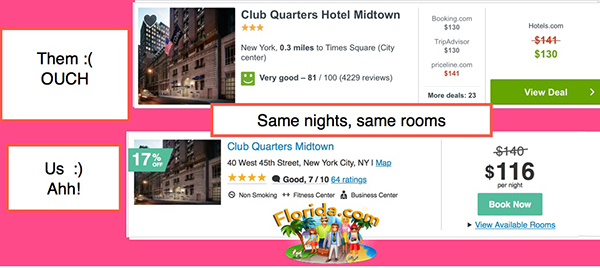 And look @ Orlando.  $57 Cheaper per Night!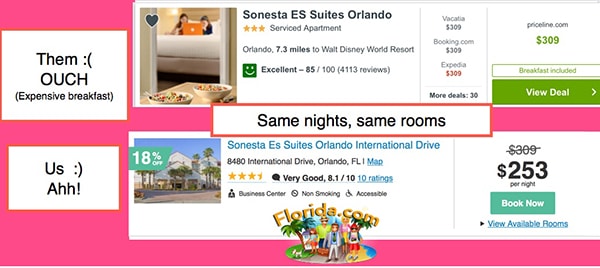 Here is the Florida.com difference:
You get a free trial. You can save money right now. No obligations.
As mentioned, hotels are only the  beginning of savings.
When you join, you get a ONE YEAR MONEY BACK GUARANTEE.
We usually give a discount off our  membership rate of $59, one time fee.
Are you ready to start saving on Florida hotels?
And get the lowest rates on Orlando Hotels anywhere!  And Miami and New York and and and….