Looking for an amusement park with a splash? Tired of regular parks on dry land with the same roller coasters, merry-go-rounds and Ferris wheels? Plan a fun-filled trip to a Florida water park! There are some exciting choices of water amusement parks in Florida. Learn about five of them here.
Adventure Island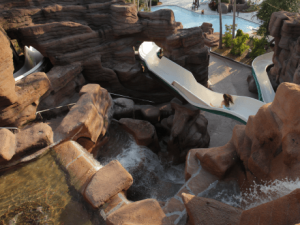 For a tropical Key West water escape in Tampa, check out Adventure Island. At Adventure Island, there are rides and amusements for all ages and interests. For guests looking for thrills, they can try any of the slide amusements like the Key West Rapids, a six-story inner tube slide with lots of sloping twists and turns. For visitors who want even more twists and turns, there's the Caribbean Corkscrew, which is two intertwined slides that spiral riders fast in the dark. For visitors who want a more relaxing activity, there's the Rambling Bayou, a calming half-mile tube trip through a vivid rainforest with waterfalls, rain and fog. There's also stuff just for kids, like the Splash Attack, a tree house with water toys and a 1,000 gallon wooden bucket that dumps water every 7 minutes. For guests who want to take a break from the water, there are five dining venues at Adventure Island where visitors can enjoy great food, fruit smoothies and ice cream. There is also an island surf shop for swimsuits, water shoes, and more. For guests who want to stay dry, there are furnished cabanas and chickee huts available for rental. Get more than 20% off on one visit by becoming a VIP member!
Adventure Island
Get your Florida.com VIP Rate
Regular Price  $100.00         VIP  $80.00
Aquatica, SeaWorld's Water Park Orlando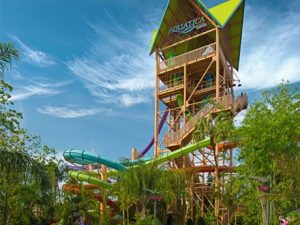 Aquatica, SeaWorld's water park in Orlando, is the ultimate aquatic playground for kids and adults. Located across the street from SeaWorld on International Drive, Aquatica is a natural complement to SeaWorld but with a great splash, as it features 13 exciting rides and family attractions. Visitors looking for a little adrenaline rush can find it in rides like the Dolphin Plunge, an underwater world that rushes riders down an enclosed tube slide surrounded by black and white Commerson's Dolphins. For a jaw-dropping rush, guests can take on Ihu's Breakaway Falls, a steep drop slide that plunges riders into a splashy free-fall. For family fun, there are fun but more mellow options like Cut Back Cove and Big Surf Shores, two side by side pools with rolling waves. Guests have three choices for dining at Aquatica that are plentiful in choices like burgers, grab-and-go sandwiches, and specialty wraps. For families with children, Aquatica offers swimming lessons taught by American Red Cross certified instructors for kids from ages 6 months to 6+ years. Save 40% on one trip by becoming a VIP member!
Disney's Blizzard Beach Water Park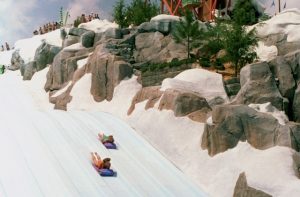 With its snowy ski resort theme, Disney's Blizzard Beach water park stands out as a unique water park attraction in Orlando. Blizzard Beach is supposed to be a former ski resort that has melted into a watery adventure land. Visitors can embark on rides like the Slush Gusher, a high speed 90-foot snow-banked slide, and also the Snow Stormers, three water slides that wind around snow-capped mountains. Visitors of all ages will enjoy the Cross Country Creek, a soothing inner tube ride that takes rafters on a 3000-foot ride all around Blizzard Beach. The frosty theme carries into the diverse mix of dining venues available at Blizzard Beach. Arctic Expressions treats guests to steak and gyro sandwiches and salads, while Avalunch offers classic fares like specialty hot dogs, beer and soft drinks. Guests can also enjoy frozen desserts like soft serve ice cream and frozen lemonade at Frostbite Freddy's Frozen Refreshments. Get your tickets at a special VIP price!
Disney's Typhoon Lagoon Water Park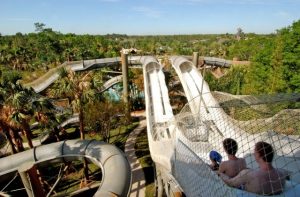 Typhoon Lagoon water park is Disney's other water park that takes visitors on an exotic escape into tropical fun. Guests who are up for a daring thrill can ride Humunga Kowabunga, a near-vertical 214 foot slide that torpedoes riders downhill at a 60-degree angle. Shark Reef is another standout attraction at Typhoon Lagoon where visitors can take a 15-minute swim across manmade coral reef and snorkel alongside stingrays, leopard sharks and blue tang fish. For tiny toddlers, Typhoon Lagoon's Bay Slides feature slowly curving shallow slopes and splashes that are suitable but still fun for small children. Visitors who want to learn how to ride the waves can take private surfing lessons at Typhoon Lagoon; sessions are taught by professional surfers and cater to all levels of experience. Save on your trip through VIP now!
Rapids Water Park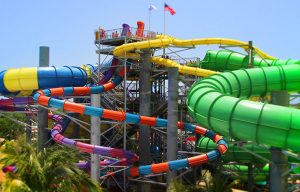 For visitors in the West Palm Beach area, Rapids Water Park in Riviera Beach is a destination that must not be overlooked. "Rapid" only begins to describe some of the mind-numbing rides like the Big Thunder, a dark tunnel that sharply turns rafters down a 45 degree drop at 20 miles per hour! Visitors will also get a rush from Brain Drain, a vertical plunge ride that has riders going up to 35 miles per hour down the slide, and Big Surf, a vast wave pool with waves up to 6 feet high. After all of the heart-pounding rides, Rapids Water park guests have two cafes and a grill spot to choose from for great foods like burgers, hot dogs, pizza, and gourmet wraps. For guests who want to make their trip to Rapids a full-scale event, group rate admission discounts are available for parties of 20 or more. Catered picnic events are also available for groups of 50 or more; pricing for these events include admission, a 1-hour all-you-can-eat buffet, and a picnic-in-the-park pavilion for three hours. Get a season pass at a savings rate of more than 25% in VIP!
Buy Your Tickets to a Florida Water Park Now
Check out more thrilling Florida water parks and learn how much you can save by purchasing your tickets through VIP today!