Nicknamed the "Venice of America," Fort Lauderdale is one of South Florida's hidden gems. With its beautiful beaches and inland waterways, this nickname is well-deserved. Fort Lauderdale is a relaxing destination spot with fabulous restaurants and shopping. There are also fun activities to do in this great town. Read about these Fort Lauderdale attractions and all they have to offer.
Jungle Queen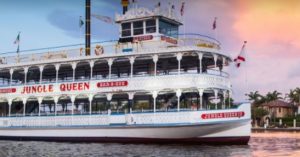 To see the beauty of Fort Lauderdale, Florida tourists should take a cruise with Jungle Queen Riverboats. Jungle Queen offers a variety of day and night cruises that combine sightseeing, dinner and entertainment into one convenient spot. There's a 90-minute morning cruise option that takes visitors through Fort Lauderdale's New River. On the New River, which originates in the Everglades, visitors take in breathtaking sights of nature and luxurious homes of rich and famous figures on Millionaire's Row.
Guests who want to do more will love the afternoon cruise that includes a tropical isle tour. On this isle, guests can enjoy an alligator show and see birds, monkeys and more. Also available with this tour option is a concession stand with great fare like burgers, sandwiches and more. For visitors who want an evening experience, they can opt for the cruise that includes sightseeing, dinner and a show. Along with sightseeing on the New River, guests can feast on an All-You-Can-Eat dinner at the tropical isle. This dinner includes delicious foods like barbeque ribs, chicken and shrimp. During dinner, guests enjoy live entertainment followed by a hilarious variety show. Save over 15% in VIP! Ticket prices start from $19.50 for VIPs!
Everglades Holiday Park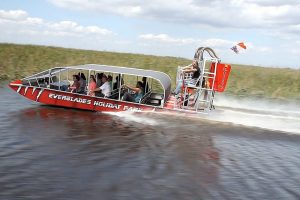 For daring adventure with wild animals and the raw nature of the Everglades, guests can spend the day at Everglades Holiday Park. Everglades Holiday Park is the quintessential family activity where guests can engage in airboat tours, fishing, and animal encounters. Thrilling airboat rides take visitors through miles of wetlands in the Everglades. These one-hour airboat rides are on state-of-the-art vessels that can travel at top speeds with expert tour guides.
After the airboat tour, guests are treated to a live alligator presentation where alligators perform incredible stunts and tricks. Guests are also educated on the conservation and preservation efforts of these alligators and their wetland habitats at these shows. A newest attraction, Animal Encounters, allows visitors to interact with a variety of animals like pythons and lemurs. A one of a kind activity that Everglades Holiday Park offers is fresh water fishing. Visitors can fish in the Everglades from a boat, a dock or as part of a guided tour. VIP members can save over 30% on one-hour airboat rides at Everglades Holiday Park. VIP get the great rate of $21.99 for adults and $14.50 for kids.
K1 Speed Indoor Go Kart Racing

For an indoor adrenaline rush, Fort Lauderdale visitors should check out K1 Speed Indoor Go Kart Racing. K1 Speed offers two indoor go kart tracks that create a genuine racing experience for drivers. Drivers are provided with electric zero-emission 20-horsepower go karts that can go as fast as 45 miles per hour on high-traction tracks. Go kart racing at K1 Speed is the perfect activity for groups, especially at adult and children's birthday parties. As a VIP member, you can save up to 20% on tickets to K1 Speed. VIPs can get one-race anyday tickets for $15.99 and three-race anyday tickets for $39.99.
Uncle Bernie's Amusement Park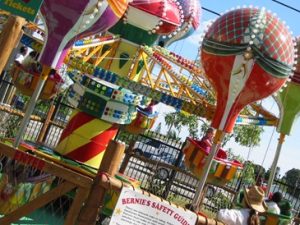 For affordable family fun, Uncle Bernie's Amusement Park is the place to go. Uncle Bernie's is a free-admission park where visitors pay for rides through various pass and ticket package options. Visitors can enjoy a great variety of rides like a bounce house, go karts, carousels, and roller coasters. Uncle Bernie's is also a great spot for birthday parties and offers special birthday packages for rides.
Schedule a Trip to One of These Fort Lauderdale Attractions Now!
Do not wait any longer to take check out these amazing Fort Lauderdale attractions. Schedule a vacation to the "Venice of America," where you can enjoy the beaches and fun of South Florida with out any Spring Break noise. Become a VIP member so you can learn about other Fort Lauderdale attractions and how you can save on them!