Are you in Orlando looking for a break from the myriad of amusement parks? Are you tired of the roller coasters, carousels and movie shows? Maybe an ecotourism experience is just what you need. Not far from Orlando are airboat tours and parks where you can take a refreshing break watching the phenomenal wildlife and nature of the Everglades. Take a look at these Orlando airboat tours and the VIP specials you can take advantage of right now.
Wild Willy's Airboat Tours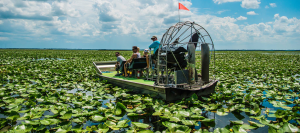 Located right on Lake Tohopekaliga in St. Cloud, Florida, Wild Willy's Airboat Tours is nicely tucked away from the hustle and bustle of Orlando. That makes it a great spot for a calming, scenic airboat ride through the wetlands. On this one-hour eco tour, visitors will take in amazing sights of gators, bald eagles, blue herons and other wildlife. The airboats are full-insured and driven by licensed captains who are skilled at spotting local wildlife. After the tour, guests can hold and take pictures with gators for free. Save up to 30% off an airboat ride by paying only $33.00 for adults and $25.00 for kids as a VIP member.
Wild Florida Airboats & Wildlife Park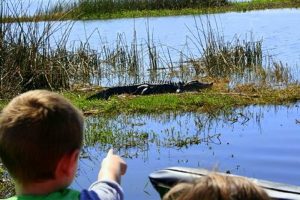 At Wild Florida Airboats and Wildlife Park, Orlando visitors will get a true taste of adventure in the Florida Everglades. Located right on Cypress Lake, this park is 45 minutes away from Orlando and offers way more than airboat rides. Guests have tour choices of half-hour, one-hour, private, or night-time trips on US Coast Guard-approved airboats. On these airboats, seasoned captains lead guests across the shoreline through incredible swamps, rivers and marshes.
Provided with life jackets and ear protection, guests can also catch glimpses of eagles, alligators and other types of wildlife. If airboat rides aren't enough, visitors can explore over 200 animals in the Gator and Wildlife Park. Some of the exotic animals guests can visit include sloths, lemurs, zebras and bobcats. There are also a playground and petting zoo where kids can feed baby animals. Finally, visitors can also can ride through a cattle operation on ranch buggy tours. Originating from as far back as the 1850s, the Doc Partin Ranch is one of the first cattle operations in Central Florida. On this buggy tour, guests can view cattle like the American Brahman and learn about how pioneer ranching families impacted Florida's beef cattle production. With ticket prices starting at $21.00, you can save over 25% in VIP membership.
Boggy Creek Airboat Rides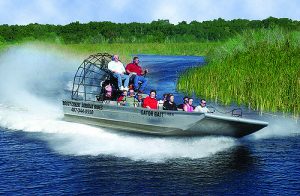 Orlando tourists looking for an airboat adventure close to Orlando's numerous attractions should check out Boggy Creek Airboat Rides. Boggy Creek is only 35 minutes from the Orlando area in Kissimmee, Florida. This airboat venue boasts seven airboat adventure choices that range from 30 minutes to one hour. One thrilling option is the Sunset Tour, in which visitors can see wildlife that come out in the day and at night. There's also the Scenic Half-Hour Tour, in which guests enjoy astounding views of cyprus trees and wildlife like alligators, turtles and birds.
These tours are guided by experienced captains, and some include jetting across the water at thrilling speeds of 45 miles per hour. Boggy Creek also has a Native American village where guests can learn about how Native Americans cooked, hunted and existed generations ago. As a VIP member, Orlando visitors can save over 20% on a combination deal that includes a free train ride and binocular rental. For children ages 3 to 10, the VIP price is $32.99 for the Gatorland & Boggy Creek Combo, and for adults (ages 11 and older), this combo is $44.99. Guests interested in a half-hour day airboat ride can save over 25% as VIP members. The VIP half-hour tour ticket is only $16.50 for children and $21.00 for adults.
Marsh Landing Adventures Orlando AirBoat Tours

For Orlando visitors looking for a full-scale airboat ride, their best bet will be Marsh Landing Adventures Orlando Airboat Tours in St. Cloud, Florida. At Marsh Landing Adventures, guests have the choice of going on 1-hour, 90-minute, 2-Hour, or 4-Hour Wildness Excursion Airboat Safaris. On these safaris, visitors are guided by US Coast Guard-trained captains on state-of-the-art boats. These airboats give all passengers unobstructed, fabulous views of the breathtaking plant and wild life of the Everglades.
The tours venture into Lake Toho in marsh areas that are about four to five feet deep. Pelicans, snakes, wild pigs, and bald eagles are just a few of the amazing wildlife tourists can set their sights on. On the 4-hour excursions, the tour trails deeper into the marshes to Shingle Creek, then stopping at one of Marsh Landing Adventures' islands for a land excursion. On the island, tourists will get some history about early inhabitants like Seminole Indians and early settlers. Pay $39.50 for adult and $36.50 for children's tickets as a VIP member, saving up to 20%!
Schedule Your Orlando Airboat Tour Today!
These Orlando airboat tours are among the best ecotourism activities that Central Florida has to offer. They are also the perfect way to round out Orlando vacation trips. So schedule an airboat tour for you and your family by becoming a value-saving VIP member!