Are you tired of the usual routine of eating at a boring restaurant and then seeing a show afterwards? Do you want to enjoy unique entertainment while feasting on great food? If you're in Orlando, you need to experience at least one of the many dinner shows in the area. These Orlando dinner shows leave guests with great memories and much to talk about. Check out these amazing phenomenal dinner shows and the special VIP discounts you can get on them.
Titanic: The Artifact Exhibition & Dinner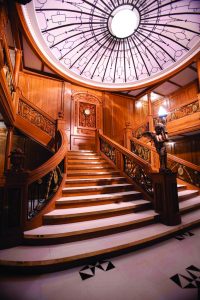 Those fascinated by the history of the RMS Titanic Ship will want to experience Titanic: The Artifact Exhibition & Dinner. Offered on Friday and Saturday nights, this dinner show treats guests to a gallery tour, first class dinner, and dramatic reenactments of that ill-fated night of April 14, 2012. The artifact exhibition tour takes visitors on a journey through the rich 100-year history of the ship guided by actors dressed in period costumes portraying real Titanic figures.
In this tour, guests get to see over 400 artifacts and historical relics in a 17-gallery interactive museum. Visitors can walk through astounding full-scale recreations of some of the ship's rooms like the Grand Staircase, First Class Cabin and the Promenade Deck. Other significant pieces that guests can see up close include china engraved with the logo of White Star Line, the shipping company that owned the Titanic. Visitors can also view "Little Big Piece," a 3-ton section of the ship's hull that is the second largest piece of the Ship to be recovered.
Before dinner, visitors attend a cocktail party with RMS Signature cocktail drinks like the Unsinkable Molly Brown, a Bourbon-based drink. Dinner is a first-class, three-course feast that features classic dishes like filet of beef, chicken breast and rosemary-roasted red potatoes. With VIP ticket prices starting from $55.00, attendees can save up to 25% on admission and the dinner show.
The Cirque Magique Dinner Show

Orlando families can become part of the circus at the Cirque Magique Dinner Show. Available three times a week, this dinner show entertains all ages with magical, interactive performances. Circus performers from all over the world participate in this show, including clowns, acrobats and a comedy magician. The dinner menu features American classics like cheeseburgers, chicken burgers and veggie lasagna for vegetarians. Adult tickets for this show are $72.37, but as a VIP member, you only have to pay $35.00. Children's tickets normally running for $44.14 are available to VIPs for $29.00. So save over 50% on this fun dinner show by joining VIP today!
Sleuth's Mystery Dinner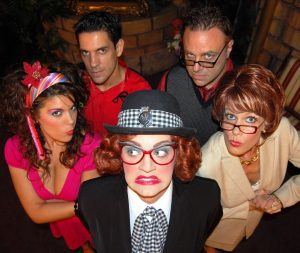 Guests who love mystery and suspense can solve crimes as detectives at Sleuth's Mystery Dinner Show. This two and a half hour comedy mystery show is ultimate interactive entertainment that leaves guests with hilarious memories. Before the show, guests partake in light fare like salads and hot and cold hors d'oeuvres.
Next is the comical 45-minute dinner show where guests are presented with clues they need to help solve the crime. It is during dinner that dinner table members become detective teams and create tough questions for an interrogation. Dinner guests have dinner entree choices of Cornish Game Hen, prime rib dinner, cheese lasagna and a chicken tender dinner for children.
After dinner, the teams each get a chance to ask the dinner show detective questions and to reveal more clues. The evening ends with a mystery dessert while guests make their final guesses about the mystery culprit. The detective ultimately reveals the criminal and rewards successful Sleuth guests with prizes. With ticket prices starting at $39.99, VIP membership can save visitors over 35%.
Medieval Times Dinner & Tournament
The Medieval Times dinner show takes guests on an escape to the 11th century with real live medieval jousting and royal court feasting in a castle. In a two-hour jousting tournament, six horse-riding knights fiercely compete against each other with real weapons. The knights also engage in riveting swordsmanship and hand-to-hand combat, all part of a thrilling story set in Medieval Spain. While guests watch the incredible tournament, they partake in a four-course banquet that features roasted chicken, sweet buttered corn, and vegetarian alternatives like three-bean stew. As VIP members, Medieval Times guests can save over 40% by paying only $39.00 for adult tickets and $34.00 for children's tickets.
The Outta Control Magic Comedy Show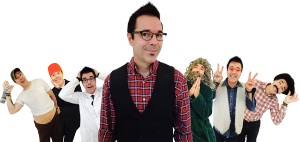 WonderWorks is an indoor amusement park that features a range of activities, including an engaging comedy dinner show. In the Outta Control Magic Comedy show, audience members become part of the show as they interact non-stop with the comedians. One featured comedian, Tony Brent, really captivates audiences with his exciting improvisational comedy, impersonations and magic. While enjoying gut-busting comedy, guests dine on unlimited cheese and pepperoni pizza, salad and dessert. Save over 20% on tickets to this show by becoming a VIP member, giving you access to ticket prices starting at $22.50!
Book Your Tickets to These Orlando Dinner Shows Now!
These Orlando dinner shows are one of a kind. By combining dinner and entertainment in one, these shows can free up more vacation time to enjoy other attractions. The VIP rates on these Orlando dinner shows are not easy to come by, so take advantage of them by signing up now!