In the Wake of the Tragedy in Parkland, Communities are Making Solid Plans
SARASOTA (FOX 13) – Sarasota County's sheriff is calling on Florida lawmakers to change the state's concealed weapons law so that armed retired law enforcement officers and military veterans can be posted on school campuses to improve security.
It is rare to find people who take the bull by the horns like this leader.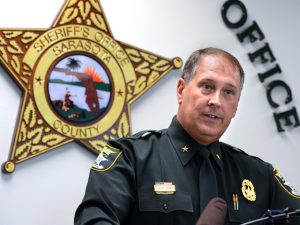 Sheriff Tom Knight said Tuesday that his agency already supplies manpower and training to the district, but he believes more can still be done.

The sheriff said specially trained deputies are already available as school resource officers to every middle and high school in the county.  It was not immediately clear how this new suggestion would impact that program.
He is pragmatic and knows it will get done.
"This is not an overnight solution but it's a good place to start," the sheriff continued. "Many of these veterans have basic training, have managed major incidents and have knowledge of weaponry and tactics.

Parents, administrators, and lawmakers have been scrambling to identify and fix holes in schools' security since last week's attack at Marjory Stoneman Douglas High School.
There are a lot of unanswered questions still in Parkland.
Broward County Sheriff Scott Israel said last week that the Parkland campus had an armed officer who never encountered the suspected shooter during the attack.

There was no immediate comment from the school district on the proposal, though Knight said he'd discussed it with superintendent Dr. Todd Bowden "who agrees this can be a win-win for everyone."
I suggest people start moving faster. Aren't we all sick of the bullshit politics? While people think about Florida as all sunshine and Sarasota as a perfect place to visit, serious work needs to be done now, to protect our future.