Don't Pay Retail for Disney World Tickets
Be happy: This article will make your wallet fatter.
There are a few ways not to pay the regular rate for Disney World tickets. In general Disney is in tight control of retail ticket prices. They give discounts to Florida residents as a regular course of business.  Bulk ticket resellers however buy the tickets at  discount and can resell with a discount depending upon who you go to.  A few names come to mind like AAA perhaps Costco. There are also a few online sites you can search for.
Don't Pay Retail for ANY  Attraction Tickets
Or you can check out what Florida.com has for you. Not only do we have Disney World tickets at a discount with a free Restaurant.com $25.00 certificate, but Florida.com has all Orlando attractions tickets for a discount.
It doesn't stop there. Not only are there Orlando attractions like Universal Studios, but you can find attractions through out the USA in almost every city.
So here are the choices you have. You can search the internet and find other web sites that will give a discount on one attraction like Disney. You will save for sure.
Or you can check Florida.com VIP rates, and get discounts, and get  free food for Disney, and get discounts on a lot more. The only difference is that Florida.com VIP is a members only paid area.
However this should not stop you. Since we are giving you free trial access, no credit cards required you can go and buy the tickets at a discount and get free food.
If you want to continue the VIP after your trial period you will see the cost to join will quickly save you more money than the fee.
Let's take a look at what is going on. You can actually go and look at the ticket prices live if you go here.
Save Money Right Now
This is one example of one of the deals on Disney World tickets.
See that the rate is discounted and you get free food.
Yep. Free Food!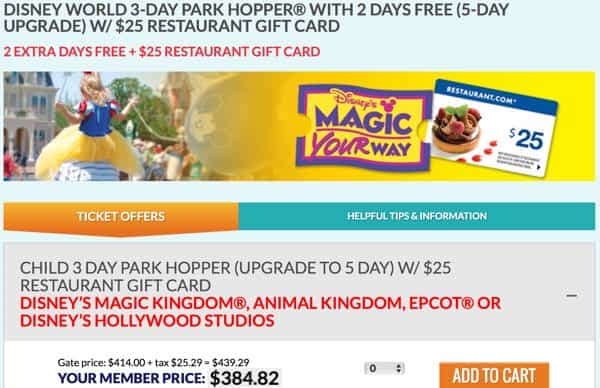 Don't Pay Retail for Food
Let's talk about the free food for a bit. There are a  few ways to get really good food deals whether you travel or at home.
You can go back to our guide and read about Disney Meal Plan.  It is not free but it may help you save money.
Here is a website where you can can free stuff including food, if it is your birthday month. Right now they have no birthday deals in Orlando, but perhaps they have in your city or where you want to go.
Let's get to restaurant.com deals. I have used these plenty in the past. You really save a lot of money, and get free food. You buy a coupon for a discount. And that coupon allows you to get food valued a lot more than you just paid.
As you see above the best deal is really free food when you buy Disney tickets at a discount from us, you also get the free coupon. So you are getting $25.00  worth of  great quality food. The only restrictions usually are the other person needs also to buy a meal. So unless you are eating alone it won't help or you are really hungry  and eating 2 meals, you are saving.
And  if you are paying retail for tickets and food then you will  most likely hate to pay retail for hotels so……
Also if you need advice all about Disney World be sure to check out Disney World: The Ultimate Guide.